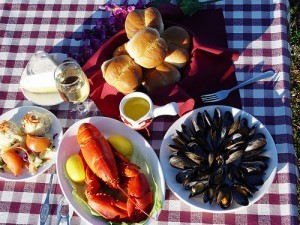 The 2012 Bridal and Special Occasion Trade Show, presented by The Wedding Place at the Charlottetown Civic Centre – yes that is how I am spending my Sunday afternoon. No I'm not getting married ( one husband is enough for me!)
Many people have enjoyed a dinner with us at one point or another. Perhaps a special gathering for a birthday, a family member visiting the Island or just a night out with your friends. Whatever the occasion- we're here to serve you!
We are a fully equipped facility that can cater to a wide range of groups. If it's a private function you are looking to host, perhaps you would like to take a look at our lower level Glasgow room which includes private entrance, bar and bathroom facilities. We offer not only a sit down dinner but also a  reception style buffet with an endless amount of options to tempt your taste buds. If you are looking to enjoy a traditional lobster dinner served the Island way perhaps you would like to dine in our Clyde room surrounded by other excited food connoisseurs like yourself.
Wedding Rehearsals, Family Reunions, Anniversary parties -No matter what the occasion is, why not allow us make your day a memorable one by making your 2013 reservation today.