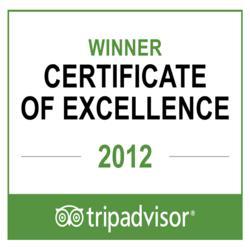 When you go to the mailbox these days you don't really get excited . Expectations are low as you don't receive much good news "snail mail" just bills and even now you can go paperless and view everything online. So it was a pleasant surprise I expect for our general manager to open the mail to discover that Trip Advisor has awarded us with A Certificate of Excellance for the year 2012.
The Certificate of Excellence award honors hospitality excellence. The accolade is given only to establishments that consistently achieve outstanding traveler reviews on TripAdvisor, and is extended to qualifying businesses worldwide. To qualify for the Certificate of Excellence, businesses must maintain an overall rating of four or higher, out of a possible five, as reviewed by travelers on TripAdvisor. 
Recognition from guests is the most powerful from of validation of a business's product, service and hospitality. It brings us such pride to read these wonderful comments from people who have travelled from near and far and have enjoyed not just the food but the unique dining experience we strive to provide. 
Please feel free to drop us a line either in person, on-line or by snail mail ( I still love getting mail the "old fashioned" way) and let us know how we are doing. We appreciate all comments, the good, the bad and the constructive. Thank you for all your patronage over the years as we move forward into our 54 season, we look forward to serving you & your family.