New Glasgow Lobster Suppers,
Prince Edward Island
Celebrating 65 Years of Island Tradition!
Celebrating our 65th Anniversity at

New Glasgow Lobster Suppers!

From the first day, we opened our doors on June 24, 1958, we've been bringing families and friends together around the dinner table.

Join us as we commemorate 65 years of serving up the freshest and most mouth-watering lobster on the East Coast. From our famous whole lobster dinner to our seafood chowder and lobster rolls, we have something for every seafood lover. Don't miss out on this milestone anniversary and come visit us today!
Cooked From Scratch With
Local Ingredients.
We make everything from scratch right here in our kitchen overlooking the River Clyde. Shortcuts aren't our style, and we never compromise on quality. Where possible, we source our ingredients locally, including all of our seafood, dairy, potatoes, and much of our produce. 
Fresh lobster is our specialty (and we have the on-site tanks to prove it!), but rest assured that no matter what you order, your taste buds are in for a treat. And yes, we definitely encourage bib-wearing! 

The Past & Present of
Tasty the Lobster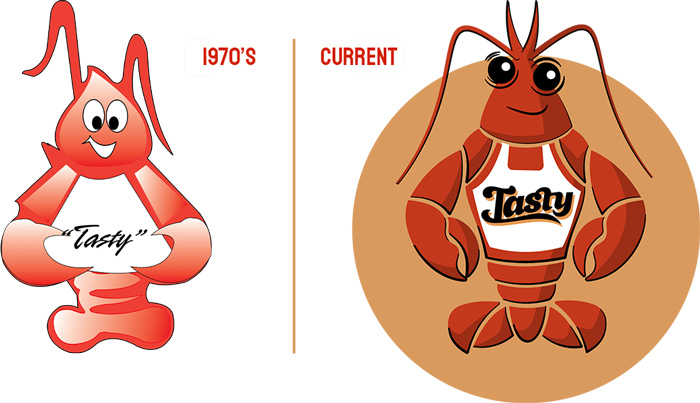 Tasty
was designed by Ralph Dickieson in the
early 1970's
and has served as our mascot ever since! Ralph Dickieson was one of the original owners of New Glasgow Lobster Suppers & the first manager. In 1988, New Glasgow Lobster Suppers celebrated their 30th anniversary by introducing their new Restaurant Manager Carl Nicholson, who was taking the place of retiree Ralph Dickieson, who still manages the restaurant to this day! To learn more about the history of New Glasgow Lobster Suppers,
click here.
Community,
The Heart of It All.
Here at New Glasgow Lobster Suppers, we cherish the ties that bind us together – as families, friends, and community members. In fact, our very first lobster supper event in 1958 was a fundraiser in support of the New Glasgow Junior Farmers Organization. Comprised of young members of the community between 21 and 31, the organization focused on farming practices, entrepreneurship, and contributing to community life. While much has changed since the 1950s, community still remains at the heart of everything that makes New Glasgow and, indeed, Prince Edward Island, such a special place. We love showcasing our little piece of paradise on PEI's North Shore and encourage you to spend the afternoon exploring New Glasgow before you settle in for your lobster supper with us.
You're Like
Family to Us.
A must-do for first time visitors!
We loved our experience at New Glasgow Lobster Suppers. It is our first time visiting PEI and this place came up multiple times as a recommendation. We absolutely loved the original vibe of the restaurant, it felt like it was stuck in time (in a good way) and the whole thing kind of moves as a well oiled machine. Be prepared for a wait as even during off peak season there was a line out the door. We got the 1 pound lobster dinner and paid about $40 each which we thought was a great deal for a 4 course meal including beverages. You can also order seconds of everything (except lobster) if you choose, though that was entirely unnecessary for us – we were happily stuffed off the original portion. Our waitress was great, very attentive and friendly and the food came out quickly. Would absolutely return!
– S. R., Mississauga, Canada
An Experience
We went here and both ordered the lobster meal. It comes with beverages, salad, soup, rolls, desserts and tea/coffee. It is a very memorable experience, but I did find it a little pricey for the amount of food that you actually get. Our waitress was excellent. Very polite and attentive. The place was bustling….there must have been at least 200 people there. We had to wait about 25 minutes before we were seated, but they are very efficient and run a very well oiled machine. I think I enjoyed the experience more than the meal, but having said that, I would recommend this iconic place.– Gary F., Saint John, New Brunswick, Canada
Highlight of our trip!
We loved everything about this place – the unfussy atmosphere, the friendly and efficient service, and the delicious homemade food. It definitely exceeded our (already high!) expectations and was a highlight of our trip to PEI. Our server, Michaela, was so sweet and helpful. She was the best server we've ever had. The tips are left at the table, so being cash. The servers here work so hard and with smiles on their faces. You'll want to leave a generous tip.
Come hungry!!! The portions are generous and there are several courses. We had the lobster and the steak. The kids had pasta with pesto, grilled cheese, and chicken fingers with homemade potato chips (still warm!). Dessert was wonderful. This place is just awesome. We wish we'd been able to dine there again!Michelle, mnbm2021
The Original PEI Lobster Supper Experience.
Family-owned and operated, we take pride in serving the original PEI lobster supper experience.
Since June 24,1958
we've been bringing families and friends together around the dinner table for a meal like no other. And long after the last bite of mile-high lemon meringue pie has been devoured, you'll still be savouring memories of your PEI lobster supper experience. While we remain dedicated to serving up the lobster supper experience that has made us a PEI bucket list experience, we are equally to meeting our customers' needs. There's something for every taste and age on our menu, including gluten-free and vegetarian entrees, as well as meat and seafood options that are created with as much love and care as our lobster suppers!