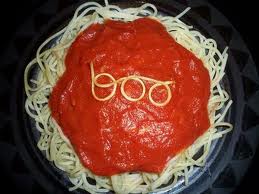 Although the smells of delicious lobster and rolls is done for another year, there will be some mouth watering smells coming from our kitchens next week. For the 2nd year in a row we have joined forces with the members of Gulf Shore Consolidated Band and their parents to hold this fantastic fundraiser. In the past they hosted a Traditional Haunted Woods in St. Anne's. As this was a very weather dependent & sometimes too scary for all ages, the decision was made to create a yummy alternative. And so The Spooktacular Spaghetti Supper was born and being such a successful event last year,  there was no doubt it would become an annual event.
On Friday October 25th the Band students from Gulf Shore Consolidated are holding their 2nd Annual Spooktacular Spaghetti Supper fundraiser at New Glasgow Lobster Suppers! Your Halloween themed dinner includes; Choice of Spaghetti (plain, vegetarian, meat sauce)and meatballs, Caesar salad, Garlic Bread, Dessert and Beverage and will be served to you by the Grade 9 members of the Band wearing their best Halloween costumes. So dress up in your costume, bring the family and get into the Halloween Spirit with a night of fun, food and games! The younger members of the band will have a Halloween Fun House set up in the lower level so take advantage either before or after your meal with games and activities for goblins and ghouls of all ages!
Doors open at 5pm
Tickets are $10 for Adults, $5 for kids (12 and under) in advance or $12 and $5 at the door.
Band members are already selling tickets so contact one today! Or reserve yours by emailing ktmaclaine@edu.pe.ca
Thank you in advance for supporting The Band students of Gulf Shore Consolidated School