The peaceful view of The River Clyde nestled among the rolling green hills of New Glasgow makes New Glasgow Lobster Suppers the perfect setting for weddings, reunions or group functions. Our facilities include choice of two rooms available for private functions as well as non-private. We offer In-House Catering  in addition to our full service meals allowing us to match the food to the mood of your event.
The Glasgow Room
The Glasgow Room is our ground level dining room with convenient wheel chair access and private access from 2 entrances. Complete with air conditioning, private bar, wash-rooms and a lovely view of the River Clyde. It can accommodate upwards to 150 people comfortably and is an ideal location for small corporate function or a family reunion.
This room is available for Private functions from the middle of May to early July and for September & October.
The Clyde Room
The Clyde Room is our main level dining room and can accommodate upwards to 350 guests. A location like no other. Air conditioned, Original hardwood floors, beautiful picture windows with plenty of room for large reunions, awards ceremonies or weddings.
This room is available for Private functions from the middle of  May, June, September and October.
Weddings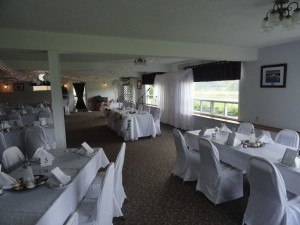 We would love to share in your special day, creating the dream day you have always imagined. We would work with you to customize your menu, your design and the flow of the event making sure your day goes as smoothly as possible.
We could also suggest decorators or photographers who are familiar with us and the New Glasgow area. Our menu items are just suggestions and we would love to sit down and discuss your ideas. A deposit is required at time of booking for all weddings.
Banquet Menu
Served Dinners
Dinners include fresh baked rolls, coffee and tea served with dessert.
Appetizers
Seafood Chowder or Tomato Basil Soup
Steamed Cultivated Blue Mussels* also available as a mussel bar prior to dinner during reception
Salad sampler plate (Garden salad with homemade balsamic vingerette, PEI potato salad, Coleslaw)
Entrées
Served with creamy mashed potato and Fresh Vegetables
Boiled PEI Lobster in the shell ( no vegetables on plate)
Atlantic Salmon drizzled with lemon dill sauce
Chicken Supreme with Cranberry Chutney
8oz Island Strip loin steak
Tender Sweet Baked Ham
* Vegetarian entrees available upon request
Dessert
Home made Apple, Cherry, Raisin, Blueberry, Lemon Meringue Pies and Stawberry Shortcake
Reception Buffet Choices
(Available with room rental)
Vegetable Tray with Dip
Domestic Cheese & Cracker Tray
Seasonal Fruit Tray with Yogurt Dip
Standard Sandwich Tray (chicken salad & roast beef)
Premium Sandwich Tray (lobster)
Bacon Wrapped Scallops
Steamed Mussels
Deli Tray Platter
Seafood Chowder
Tomato Basil Soup
Soup of the Day
Assorted Pies & Cakes
Coffee and Tea
Shirley Temple punch
Thank you for choosing us to make your event a memorable one. We are looking forward to welcoming you and your guests to New Glasgow, PEI. Here are a few notes we would like to share with you, when planning an event with us.
Guaranteed number for meals is required 48 hours in advance of the event.
We will set for 10% over confirmed number.
Please advise us on any food allergies or special dietary requirements in advance.
PEI Liquor Laws do not permit guests to bring in their own alcohol.
Liquor has to be purchased and served by us. All alcohol must stay on premises.
We have white tablecloths and burgundy cloth napkins in limited numbers available