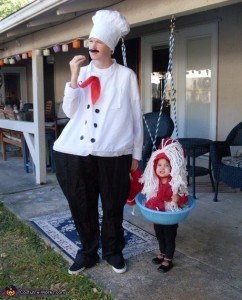 Ghosts, Goblins, Monsters and more will come walking through the doors on Friday October 30th  because it's  time for The Gulf Shore School Band's Spooktacular Spaghetti Dinner!
Your dinner is served to you by one of the band students dressed up in their craziest Halloween outfit and includes Garlic Bread, Caesar Salad, Spooktacular Spaghetti with your choice of no sauce, meat sauce or vegetarian, your choice of drink and delicious desserts!
Advanced ticket prices are $12.00 for adults & $6.00 for children (12 years and under) Tickets may be purchased from Mrs. MacLaine ( ktmaclaine@edu.pe.ca) or from any Gulf Shore band student. Adult tickets at the door will be $15.
This annual event is being held on Friday, October 30th, doors open at 5pm at New Glasgow Lobster Suppers. There is also a  Hallowe'en themed carnival in the lower level appropriate for all ages. And don't forget to bring a few extra dollars to throw that someone special into the mock jail for a time out during supper.  Everyone is invited to wear their costume and come in for a bite ( we promise not to bite back). This is a fun night out for the whole family to celebrate Hallowe'en in our community, we hope to see you there!
Thank you in advance for supporting the Band Students of Gulf Shore Consolidated School.