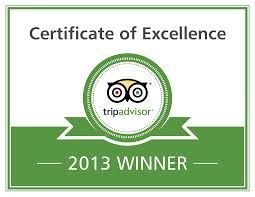 For the 2nd year in a row we are thrilled to be recognized by you our customers  with a 2013 Certificate of Excellence from Trip Advisor. This prestigious award,  places us in the top-performing 10% of all businesses worldwide on TripAdvisor. It is given to businesses that consistently earn high ratings from TripAdvisor travellers.
The success of our business depends on you our customers. During your visit we would  love to hear how your meal was. Good or bad. We can't fix things unless you tell us that something is wrong. This is how we improve. By learning what we could do differently and  by helping our employees learn how to become the best they can be. We encourage you to tell your server or a manager  ways that we could improve, whether it be on the meal itself or the restaurant in general.
We also LOVE to hear how much you enjoyed your meal and your service . Over the last 55 years many have signed our  guest book in house and many of our servers like to flip back to see if their name was mentioned. You can still do this and now you can sign our virtual guest book from anywhere in the World!
If you haven't already, we would appreciate it if you took a minute to visit us on Trip Advisor and  share your dining experience and photos with others. Nothing speaks louder then the words of our friends and valued customers.
Thanks again for your kind words and reviews – and here's to another great year for 2013!